Boost your earnings in August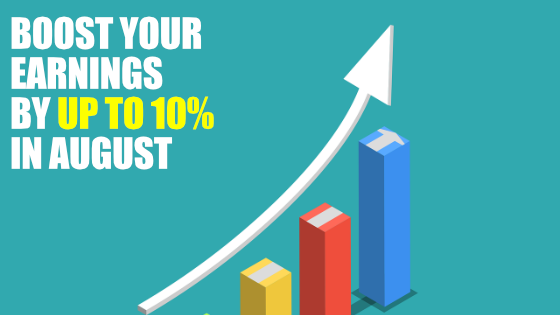 Our earnings booster promotion is already running but there is still about a week left, so we wanted to share some tips on how to maximize your earnings in August.
The idea is simple: when your earning reaches $250 or more, we will add an extra 5% to your earnings. Reach $500 or more, and we'll add 10% to that!
The booster promotion runs between August 11 and 25. (All times are CET!)During that time, you will see your earnings and your actual bonus at the top of the Performers Area.
Every account automatically qualify for the bonus earnings but there is one simple rule: you need to have a properly filled out profile page and at least 5 high quality photos in your profile.TIP 1.
Complete your profile page, upload at least 5 good photos (the more the better) and write about yourself. A nice and complete profile page will bring you more visitors and viewers are more likely to chat with you.
TIP 2.
You can now use Skype to host private shows to your fans. It's really easy to set up and it offers new ways to broadcast on almost any device. How does it work? Read it on our WiKi page!
TIP 3.
Trolls (people who abuse chat rooms) are a growing concern on most webcam sites and a pain in the butt. We also get reports about such incidents so we decided that we stop guest chat as of today on SoulCams by default. Our main goal is to protect Models from unnecessary frustration. We do understand that some of you would still like to have guest chat enabled, so you are free to set up your own preference the broadcast application. You can change it under the chat area, by choosing the preferred setting from the drop-down menu.Do not hesitate to contact us if you have any questions or comments!